FACE MASSAGE AND AYURVEDIC FACE MASK
For centuries, taking care of the face played an important role in the overall care of our selves. The ancient Egyptians and Native Americans had special techniques for facial care. Face massage boosts blood circulation, firming the skin and toning the muscles, encourages lymph flow and helps to release endorphin, the hormone of joy. This explains why after a face massage we look and feel younger and more confident.
About 600 nerve points, situated on the face can be stimulated during massage. According to Chinese medicine these points relate to body organs and so the whole body benefits. Chinese and Ayurvedic (Indian) medicine teaches that energy channels run through the face and body.
Massage and gentle pressure helps to stimulate these channels.
This treatment includes cleansing the face with pure rose water and a herbal ubtan for exfoliation. Then the application of a nourishing face mask derived from natural products and pure mineral enriched Sinai clay. This is followed by a face massage that can help to clear sinuses and generally promote healthy skin and well-being.
FACE THE WORLD HOLISTIC MASSAGE
Designed to nourish you skin and lift your mood. This treatment is unique in that it will take you on a blissful sensory voyage around the world. You will travel to four different countries where the music, aromas, techniques, temperatures and textures represent each country visited, all within the same facial. Your journey includes a cleanse, tone, exfoliate, mask, a divine ocean rain skin drench to further enrich your skin and deeply relax your body and mind, a complimentary mini treatment of your choice, all concluding with a heavenly moisturise. All products have been developed especially for this facial to create a truly luxurious and result driven facial experience. They contain natural active ingredients, are completely free from parabens and have been developed responsibly without animal testing or the use of animal products. Suitable for all skin types. Whilst the face mask is working its amazing effects, you will be offered the choice of one of the following complimentary mini treatments : head massage; foot massage; hand massage.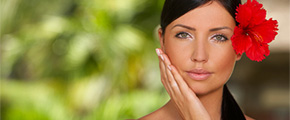 INDIAN HEAD MASSAGE (Champissage)
Head massage has been practised in India for over a thousand years, as part of family life for grooming and relaxation.
It supports the nervous system and has many of the benefits of other types of massage. In particular, it relieves migraine pain and headaches, sinusitis and chronic neck and shoulder stiffness. It increases oxygen and glucose to the brain and thereby improves concentration, clear thinking and helps to relieve depression.
Head massage is also said to stimulate hair growth.
The head massage at the studio, includes massage of the shoulders and neck and is done with an application of light oils specific to the needs of the client. These are chosen according to Ayurvedic principles.
This massage is usually received in a seated position.
FOOT SCRUB & ENERGISING MASSAGE
Being on holiday in Sinai, we often find ourselves going bare-foot or wearing very light open footwear.
Going without shoes is great for exercising the feet and helps us to be more grounded, however the skin on our feet can suffer. Hard skin, callouses, cracking, grime and dryness may be the result.
To remedy this we start by soaking the feet in warm water with added tee-tree & lemon oil. After this there is a mint and Eucalyptus foot scrub followed by rubbing with natural pumice. Foot cream and a therapeutic and energising massage follows.
The feet have reflex points associated with all the organs and parts of the body. Hence a foot massage benefits the whole person and is a great way of preserving good health.